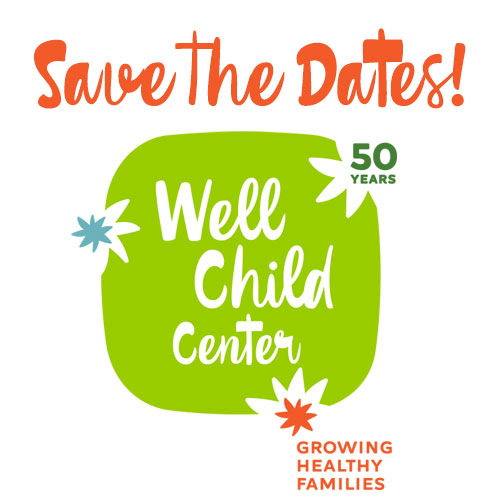 Join us for our 50th Anniversary Events throughout October.
October 3: Kick off your week with Well Child Center's (WCC) virtual fundraiser!
October 3 – 7: Food for Families…. Drop off a healthy food donation at Well Child Center WIC
locations in Elgin or Carpentersville (see addresses below).
October 5; 4:00 pm: Join us for the Food for Families Ribbon Cutting & Champagne Toast at Well Child Center on Wing Street.
October 7: End your week with a smile! Donate to Well Child Center's pediatric clinic on World Smile Day.
October 11; 12:30 – 1:00 pm; 6:30 – 7 pm: Wanna know more about WIC? Tune in! (Details coming soon!)
October 13; 12:30 – 1:30 pm: Welcome to Well Child Center WIC. Join us for WIC Open House(s) at all 4 WCC WIC clinics. Guests will be able to participate in the "Great Apple Crunch."
October 14: Our Clients, Our Heroes…. Intrigued? Check out WCC on Facebook and Instagram to be Inspired!
October 17-23: Everyone deserves to smile! Participate in our dental donation to add to someone's sparkle. We are accepting donations of children's toothbrushes, floss, and fluoride toothpaste (trial size).
October 17: Show off your artistic skills! Color Your Smile as part of the WCC coloring contest. The coloring contest sheet will be available on the WCC website – download it here
October 18; 12:30 – 1:30 pm: Meet Our Dental Clinic Team at the Well Child Center pediatric dental clinic Open House. Can't make it in person? Check out the video on WCC Facebook and Instagram today!
October 21: Fundraiser for Comprehensive Dental Exams for Pregnant Women.
October 25; 4:30 – 6:30 pm: Taco Tuesday @ Well Child Center on Wing Street!
October 26: Student Mural Competition Announcement.
October 28; 7:30 – 9:00 am: Public Servant and Partner Round Up—You DON'T want to miss this! Save the Date! More details available soon…
Locations
Well Child Center: 620 Wing Street, Lobby, Elgin, IL 60123
Hours: Monday-Friday: 8:00 am – 4:00 pm
Well Child Center Office/Suite
Location: Aunt Martha's Youth Service Center, 3003 Wakefield Drive, Carpentersville, IL 60110
Hours: Monday-Friday: 10:00 am – 3:00 pm