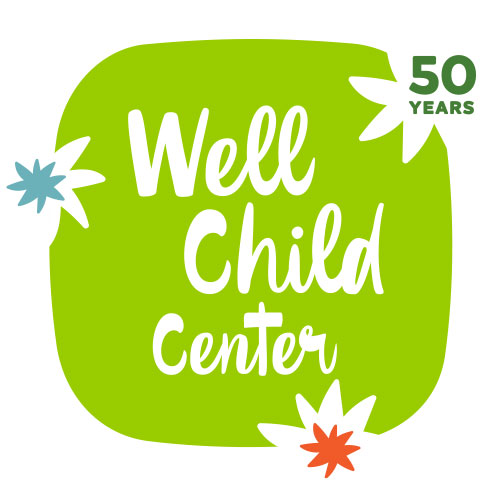 The Well Child Center (WCC), a nonprofit organization based in Elgin, Ill. is hosting a series of community events in the month of October to commemorate its 50th year of providing health and human services for low-income families and uninsured, at-risk children in Kane County.
To visually communicate this Center's work and longevity, the non-profit is debuting a new logo which will be featured prominently on a large banner in front of the building and be added to all written and digital materials.
"The new logo represents both our achievements of the past and our plans for the future," says Michelle Esquivel, executive director, WCC. "For 50 years the organization has been helping families receive quality health and human services and we look forward to expanding our reach and scope of services and partnerships to help build a better community."
Numerous events and activities during the month-long celebration will center around four themes—Feeding Families Healthy and Nutritious Food; Women, Infants and Children (WIC) Nutrition Counseling and Benefits; Children's Dental Health; and Partnerships and Collaboration.
Additionally, virtual fundraisers will be held throughout the month to support numerous Well Child Center programs and more!
Feeding Families Healthy and Nutritious Food: October 3 – 9
The events kick off the week of October 3 beginning with an official Ribbon Cutting on October 5 at 4 pm to unveil a new food pantry located in the Well Child Center headquarters at 620 Wing Street. The ceremony will include a brief presentation by Esquivel and introduction(s) of VIP attendees; it then will be capped off with a celebratory champagne toast.
Throughout the week, the Center will implement on-site and community-based Food Insecurity Screenings. These will be available to residents of Kane County, and will be conducted by trained WCC staff.
Women, Infants and Children Nutrition Counseling and Benefits: October 10 – 16
During week two, WCC will launch its inaugural Women, Infants and Children (WIC) Program Enrollment Week. WIC provides supplemental foods, health care referrals, and nutrition education for low-income pregnant, breastfeeding, and non-breastfeeding postpartum women, and to infants and children up to age 5 who are found to be at nutritional risk. It is funded by the U.S. Department of Agriculture (USDA) and administered by the Illinois Department of Human Services (DHS). WCC is the largest WIC provider in northern Kane County with operations in four locations. To help raise awareness of WIC and its available services, WCC staff and volunteers will actively distribute brochures—available in both English and Spanish, create awareness about WIC support and benefits, and enroll families in the program at its main center, at the other WCC WIC locations, as well as throughout the community.
For WIC current and potential clients, WCC is hosting a "Bring a Friend—Recipe and Storytime" on October 12 to showcase WIC and its supportive programs and to foster community engagement. "Welcome to WIC" Open Houses will be held on October 13 at all WCC WIC locations.
Children's Dental Health: October 17 – 23
October is National Dental Hygiene Month and WCC has events planned accordingly beginning with a children's coloring contest. A dental themed-coloring sheet will be distributed at the WCC pediatric dental clinic as well as all four WCC WIC locations, on the Well Child Center website, in schools, and through the organization's community partners. Submissions must be dropped off at the WCC dental clinic by 4 p.m. on October 21 and winners will be selected within three age groups. Prizes include $10 Target gift cards.
Plus, a fundraiser will be held this week that will focus on support for comprehensive dental health for pregnant women who are part of the WCC WIC program
"Dental visits can be intimidating for anyone and may be more so for those who have not had access to dental care in the past." says Dr. Chelsea Fosse, WCC board member. "But oral health is so important for overall health, wellness, and quality of life. We hope these activities will help women, children, and families learn about our facility, meet our dedicated team, and empower them to take advantage of the comprehensive dental care offered at Well Child Center."
Additionally, a WCC pediatric dental clinic Open House will be held on October 18. To educate parents and partners about the importance of dental hygiene and available services, WCC will debut a video—"Meet Our Dental Clinic Team"—on October 19. Access to the video, which will be recorded, can be found at WellChildCenter.org.

Partnerships and Collaboration: October 24 -30
On October 25, community residents and partners are invited to join WCC for Taco Tuesday with an on-site food truck from 4:30 – 6:30 pm. A percentage of the proceeds will benefit the Center.
The winner of a student mural contest, which launched earlier this month, will be announced on October 26. The winner will reproduce their artistry on the entry hallway of the Wing Street location. The final work will be accessible to the public for viewing during regular operating hours. Entries will be accepted until October 7.
The festivities will culminate on October 28 as part of a public servant and partner "round up" at WCC on Wing Street. Board members, partners, and public servants including local police and firefighters, school leaders, Emergency Medical Services personnel, and WCC supporters will be recognized by WCC board members and staff. A food truck will be on site serving coffee and donuts. Other activities also are being planned according to Esquivel and will be announced as plans are finalized.
"We think 50 years of serving our community is a major achievement," says Mark Ainley, WCC board president. "This series of events allows us to celebrate with our constituents, partners, community leaders and residents."
More information about WCC and its programs and services and links to donate to the virtual fundraiser(s) can be found at WellChildCenter.org.
Founded in 1972, the Well Child Center is a leader in the provision of health and social services for low-income families and uninsured, at-risk children residing in Kane County. The organization is grounded in one primary goal—creating and maintaining programs and services to help all children thrive with a focus on building, strengthening, and sustaining individual family and community life. Well Child Center—through its staff and board of directors—is committed to improving the lives of children and families through education, counseling, and services in the areas of oral health and nutrition.