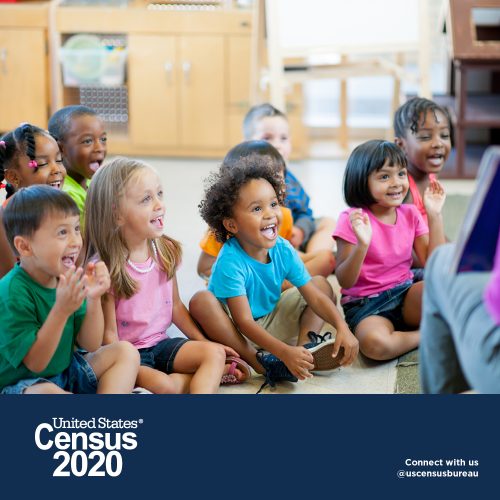 In mid-March, everyone will receive an invitation to complete the 2020 Census. You can respond in one of three ways: online, by phone, or by mail. Why should you participate? The 2020 Census counts every person living in the 50 states, District of Columbia, and five U.S. territories providing critical data that will directly affect you and your community.
The results of the data determine the numbers of seats each state will have in the U.S. House of Representatives. It's also in the Constitution: Article 1, Section 2, mandating that the country conduct a count of its population once every 10 years. Furthermore, billions of dollars in federal funding are distributed depending on Census results and given to resources that are needed most. This includes support for hospitals, childcare, food assistance, schools, first responders, early childhood development programs, etc.
Young children are the most likely group to be undercounted. In 2010, some 1 million children under 5 years old were not accounted for in the national survey. The importance of a fair and accurate Census count is not to be taken lightly. When persons are accounted for correctly, it ensures that the amount of money distributed among our communities is legitimate. Furthermore, local and state governments, businesses, nonprofits and foundations rely heavily on data from the census to allocate funding, define services, and promote economic development.
Historically, underserved populations are the ones mostly likely not to respond. But oftentimes, they're the ones that need the most help. If you want to have a voice or if you want to make a difference, what better way than to do your part and be counted? The results will impact your community every year for the next decade!
Common Questions:
Does the 2020 Census ask about citizenship status? NO – the 2020 Census does not ask whether you or anyone in your home is a U.S. citizen.
Are non-citizens counted in the Census? YES – everyone counts.
Can my answers be shared with law enforcement or used against me? NO – the law prevents the Census Bureau from sharing your info with law enforcement. Your answers cannot be used to impact your eligibility for government benefits. Your answers are only used to create statistics about our country.
Information regarding this blog and the 2020 Census can found at: