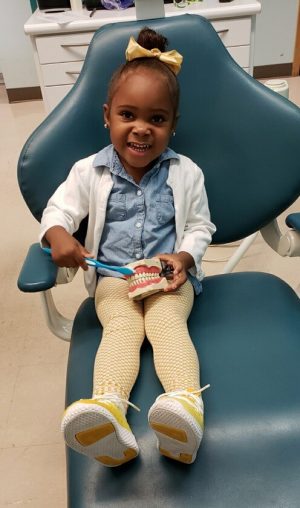 Dental caries, also known as dental decay or cavities, is the most common chronic disease among young children. The Centers for Disease Control and Prevention reports that more than 40% of children have decay by the time they enter kindergarten. And sadly, majority of decay is left untreated! The good news is that cavities are preventable.
The foundation of optimal oral health begins in the first years of life. However, many parents of young children don't see the importance of seeing the dentist early. All too often parents say, "my child is too young", "he doesn't have enough teeth yet", or "cavities in baby teeth don't matter, they'll be lost anyways." All these statements are not true.
It's recommended that children begin seeing a dentist at 1 year old, despite having little or no teeth. The first visits are to help your child become accustomed to the dentist's chair and educate parents on the importance of caring for baby teeth. It is essential to establish a proper oral hygiene routine early to ensure development of strong and healthy teeth. Good habits formed early and performed often will help prevent decay in later years. Therefore, toothbrushing twice per day should be presented as an everyday habit and as part of your child's daily care.
Unique to Well Child Center (WCC) is our "First Tooth Visit" Program that targets children at their first birthday. During this visit, parents and caregivers are educated on the need for regular dental check-ups – even for primary teeth. WCC dentists conduct a thorough dental exam and parents are given specific instruction on how to care for emerging teeth. A dental care kit containing essential dental care tools are given to children so they may continue an oral hygiene routine at home between dental visits. Lastly, the next dental appointment is scheduled to maintain consistent care and to establish a dental home.
WCC focuses on education and relationship-building to help empower families to prevent disease and manage dental decay. The dental home is the ongoing relationship between the dentist and the patient, inclusive of all aspects of oral health care delivered in a comprehensive, continuously accessible, coordinated, and family-oriented way.
At WCC all children are welcome despite their parent's insurance status and financial limitations. Call 847-930-9721 to schedule an appointment or to learn more. We're always excepting new smiles!
About Melinda Scheibe
Melinda received a B.S. in Nutrition from Illinois State University. Upon graduation, she joined Well Child Center and is actively working as a WIC Nutritionist and Development Associate. Melinda is committed to her career as a Nonprofit professional, empowering families to reach their maximum potential.